Roofing Services in Henderson and surrounding areas
Exceptional Roofing Services
As more people flock to the Triangle and surrounding areas, growth is heating up in the Henderson NC area, and ABJ Roofing is ready to meet the demand with service, whether it's roof installation for new construction, roof repair, or total roof replacement.
ABJ Roofing's reputation for quality has grown with the area, and our service area has bloomed to cover Raleigh, Henderson, and all points around and in between. After all, ensuring the safety and durability of your home or business starts at the top: having a reliable and high-quality roof. ABJ Roofing stands out as a premier roofing service provider in the Triangle because we provide exceptional roofing solutions, and we also offer invaluable preventative maintenance so you can stay ahead of any roof problems. 
At ABJ Roofing, we've built our family-owned and operated business by keeping our customers best interests at heart- and that means protecting your assets by ensuring your roof is in the best possible condition, and committing to excellence and customer satisfaction.
Request a Free Estimate
We would be happy to connect with you and provide an estimate for all your roofing needs.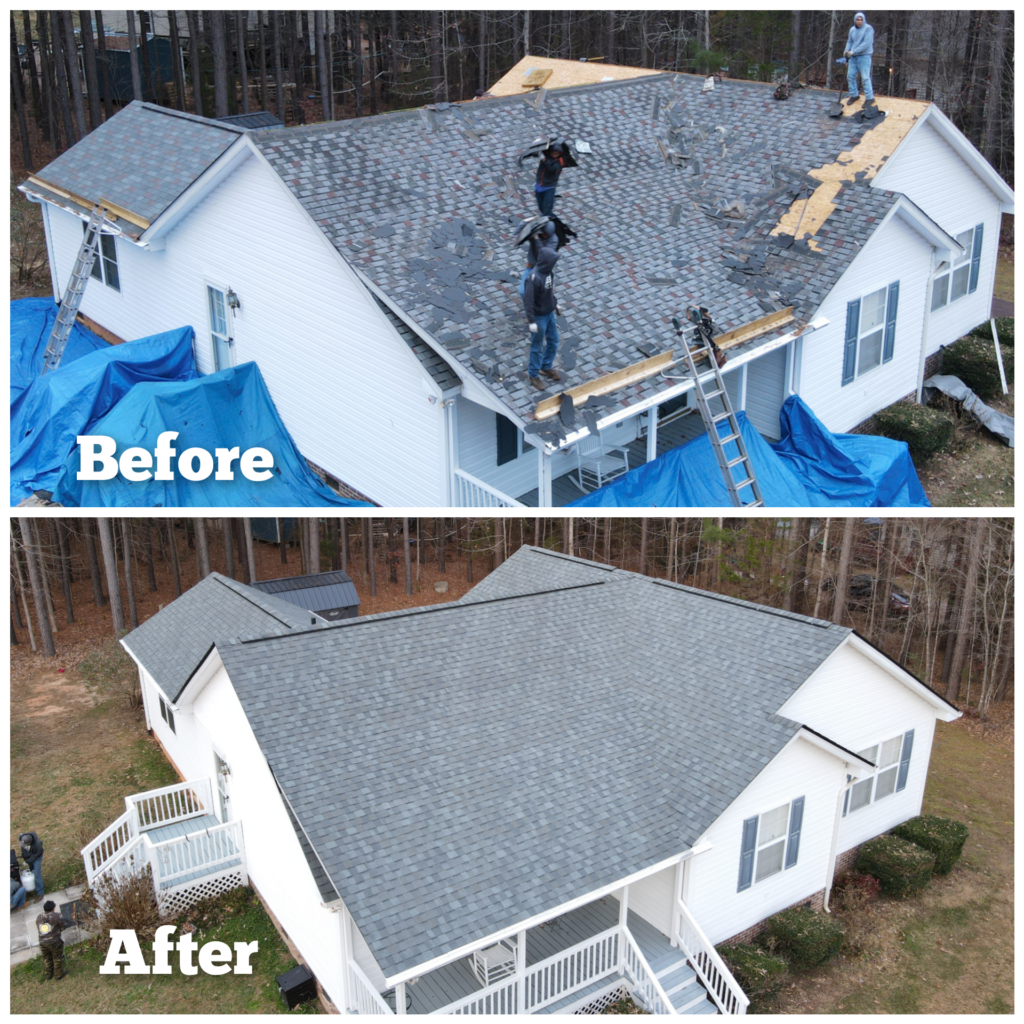 Roof Services
Quality You Can Trust
Our customers have helped spread the word, and we've got happy clients in Henderson, Wake Forest, Louisburg, Creedmoor, Oxford, and outlying areas. Whether you're inside the Raleigh beltline, in a community around the gorgeous Falls Lake or Lake Gaston areas, or heading north along the U.S. 1 corridor, ABJ Roofing serves you- so contact us today for a free estimate,  no matter what your roofing need may be:
ABJ Roof Repair: Restoring the Integrity of Your Roof
Our ABJ team excels at diagnosing and fixing a wide range of roof issues using the latest industry technology. Whether you have a minor leak, missing shingles, need emergency service or are dealing with extensive storm damage, our experienced team of roofing professionals will inspect, diagnose, and repair any problem- including assessing for any structural issues. We we offer prompt, efficient repair services to restore the integrity of your roof and protect your property from further damage.
ABJ Roof Replacement: Enhancing Longevity and Aesthetics
In some cases, a roof repair may not be sufficient, and a complete roof replacement becomes necessary. ABJ Roofing will install a durable, weather-resistant, and visually appealing roof. We work closely with you to assess your needs and preferences, then select the most suitable roofing materials for the job, considering factors such as budget, climate, and architectural style. Our attention to detail helps ensure that your new roof enhances the longevity and aesthetics of your property- be it a home or business.
ABJ Roof Maintenance
ABJ offers roof maintenance and inspection service to extend the lifespan of your roof and save you money. Regular roof maintenance provides for the security of your structure and its contents: our roof maintenance service is designed to catch issues before they become big problems. We'll give you all the roofing knowledge you need to make informed decisions about your roof, and back it up with the best service in the business!
Our Integrity = Roof integrity
At ABJ Roofing, being a family business means that we prioritize personal relationships. We're proud of our reputation for commitment to excellence and customer satisfaction, delivering top-notch roof repair, replacement, and preventative maintenance to Henderson, Creedmoor, Oxford, Louisburg, Raleigh and surrounding areas.  We're happy to come out to your location to assess your roof and provide a free estimate for how we can best ensure the integrity of your roof.  Contact us today for your free estimate!
Get a Free Roof Estimate
Request a Call Back