Serving Raleigh, Wake Forest & Surrounding Areas
We Provide Exceptional Roof Repair Services
When it comes to roof repairs, Raleigh, NC, and its surrounding areas are no strangers to storms, high winds, and other weather-related damages. Whether it's an emergency repair or just a routine inspection, the team at ABJ Roofing is here to help. We are a family-owned, full-service roofing contractor specializing in roof repair, replacement, and maintenance for residential and commercial buildings. We serve the Raleigh-Durham area and beyond.
Request a Free Estimate
We would be happy to connect with you and provide an estimate for all your roofing needs.
ABJ Roofing Roof Repair Services
Learn More About Our Roof Repair Services
At ABJ Roofing, we understand that roof repairs are a stressful and costly endeavor. That is why we strive to provide our customers with the highest quality roof repair services. Our experienced technicians are dedicated to providing the best roof repair services while upholding the highest safety standards. We utilize the latest technology to ensure your roof is repaired promptly and according to the highest standards. Our roof repair services include emergency, shingle, and leak repair. We can also address any structural damage affecting the roof and provide a full-service evaluation of the roof. We can provide an accurate cost estimate and timeline if a partial or total replacement is necessary. 
In addition to traditional roof repair services, we offer preventive maintenance services to keep your roof in shape. Our maintenance services include inspections, cleaning, and minor repairs that can extend the life of your roof. We also provide services to prevent water infiltration and check for signs of wear and tear. 
At ABJ Roofing, customer service is of the utmost importance. We strive to provide our customers with personalized service and a hassle-free experience. Our team is always available to answer any questions and provide you with the best possible solution for your roof repair needs. If you're looking for reliable and experienced roof repair services near Raleigh, NC, and its surrounding areas, look no further than ABJ Roofing. We have the experience and expertise to do the job right the first time. 
Contact us today to discuss your roof repair needs and to get a free estimate!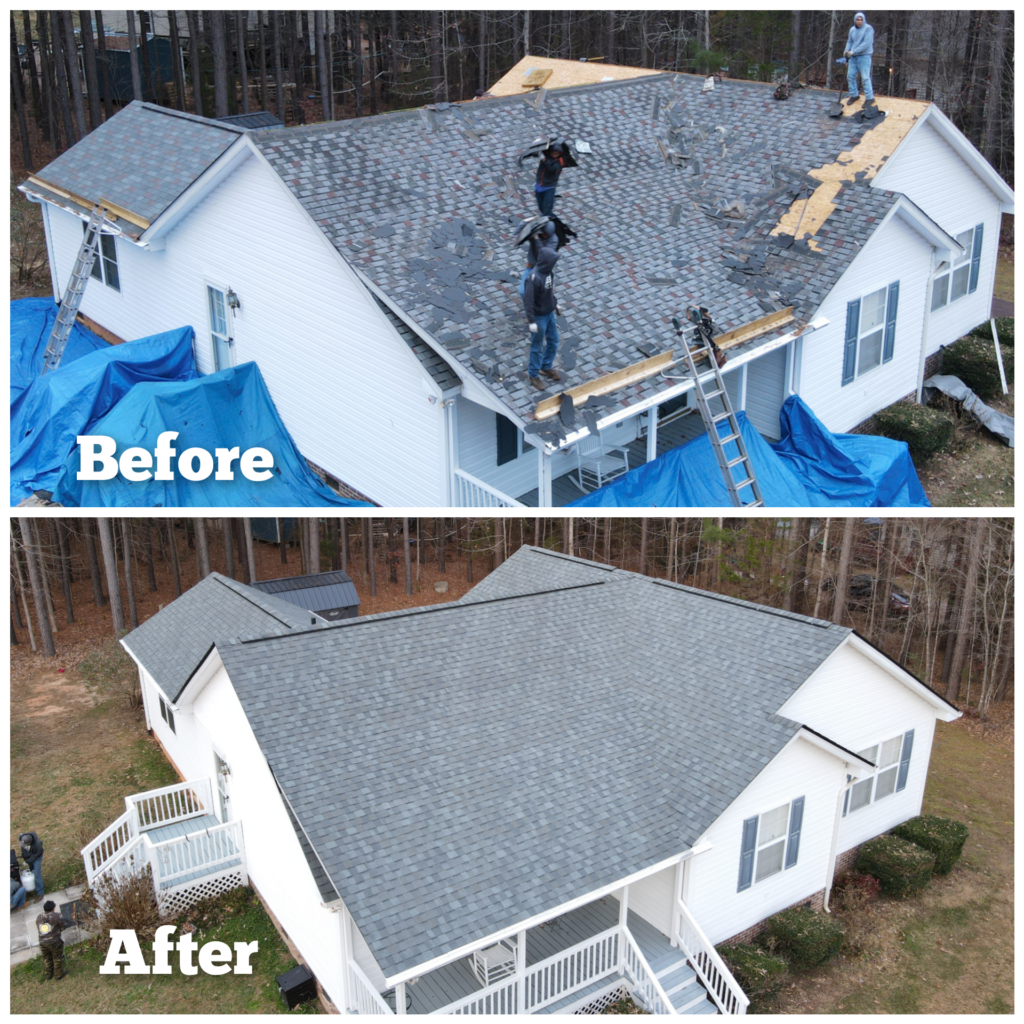 Roof Repair
Integrity counts- for your roof and our business!
When you think about ensuring the safety and durability of your home or business, start at the top: having a reliable and high-quality roof is crucial. ABJ Roofing stands out as a premier roofing service provider in the Raleigh area because we offer not just exceptional solutions for both roof repair and roof replacement, but we also offer invaluable preventative maintenance for your roof, so you can stay ahead of any problems.  We've built our family-owned and operated business by keeping our customers best interests at heart- and that means protecting your assets by ensuring your roof is in the best possible condition. ABJ Roofing has gained a reputation for our commitment to excellence and customer satisfaction, making our team the go-to choice for all roofing in the Triangle area.
ABJ Roof Repair: Restoring the Integrity of Your Roof
Need a roof repair? ABJ Roofing excels in diagnosing and fixing a wide range of issues, using the latest industry technology. Whether you have a minor leak, missing shingles, need emergency service or are dealing with extensive storm damage, our experienced team of roofing professionals will inspect, diagnose and repair any problem- including assessing for any structural issues. We know that even a small issue can escalate into a major concern if left unattended. That's why we offer prompt, efficient repair services to restore the integrity of your roof and protect your property from further damage.
ABJ Roof Replacement: Enhancing Longevity and Aesthetics
In some cases, a roof repair may not be sufficient, and a complete roof replacement becomes necessary. ABJ Roofing specializes in roof replacement projects, ensuring that your property receives a durable, weather-resistant, and visually appealing roof. We work closely with you to assess your needs and preferences, then select the most suitable roofing materials for the job, considering factors such as budget, climate, and architectural style. Our attention to detail helps ensure that your new roof enhances the longevity and aesthetics of your property- be it a home or business.
ABJ Roof Maintenance
Different roofing materials will affect the lifespan and durability of your roof.  ABJ offers roof maintenance and inspection service with that in mind. With regular roof maintenance you can extend the life of your roof, and the security of your structure and its contents, so we go above and beyond to troubleshoot any suspected area or materials, and to catch issues before they become big problems. We'll give you all the roofing knowledge you need to make informed decisions about your roof, and back it up with the best service in the business!.
Our Integrity = Roof integrity
At ABJ Roofing, being a family business means that we prioritize personal relationships. We're proud of our reputation for commitment to excellence and customer satisfaction, delivering top-notch roof repair, replacement, and preventative maintenance in Raleigh and the surrounding areas.  We're happy to come out to your location to assess your roof, and provide a free estimate for how we can best ensure the integrity of your roof.
Whether you require a repair or a complete roof replacement, our experts can handle the job, easing your mind and protecting your assets. When it comes to protecting your home or business, rely on ABJ Roofing!
Get a Free Roof Estimate
Request a Call Back